This article is about a professional member of the SimCity community, such as an employee or designer. Do not post defamatory statements about said member. This article is for employee information, biography, contribution history, etc...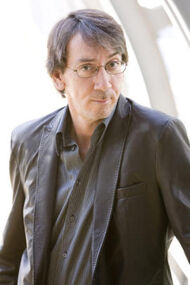 Will Wright (born January 20, 1960) is an American computer game designer and co-founder of the game development company Maxis. He is best known as the original designer of computer games such as SimCity and The Sims. Recently, he created the life simulation game Spore.
Career
n 1986, he met Jeff Braun, an investor interested in entering the computer game industry, at what Wright calls "the world's most important pizza party." Together they formed Maxis the next year in Orinda, California. SimCity was a hit and has been credited as one of the most influential computer games ever made.
Following on the success of SimCity, Wright designed SimEarth (1990) and SimAnt (1991). He co-designed SimCity 2000 with Fred Haslam and in the meantime Maxis produced other "Sim" games. Wright's next game was SimCopter (1996). Although none of these games were as successful as SimCity, they further cemented Wright's reputation as a designer of "software toys" — games that cannot be won or lost. In 1992, Wright and his family moved to Orinda, California near the San Pablo Reservoir, off Miner Road.
Maxis went public in 1995 with revenue of USD$38 million. The stock reached $50 a share and then dropped as Maxis posted a loss. Electronic Arts bought Maxis in June 1997 . Wright had been thinking about making a virtual doll house ever since the early 90s, similar to SimCity but focused on individual people. Originally conceived of as an architectural design game called Home Tactics, Wright's idea changed when someone suggested the player should be rated on the quality of life experience by the homeowners. It was a difficult idea to sell to EA, because already 40% of Maxis's employees had been laid off.
EA published The Sims in February 2000 and it became Wright's biggest success yet. It eventually surpassed Myst as the best-selling computer game of all time and spawned numerous expansion packs and other games. He designed a massively multiplayer version of the game called The Sims Online, which was not as popular as the original.
Wright was given a "Lifetime Achievement Award" at the Game Developers Choice Awards in 2001 . In 2002, he became the fifth person to be inducted into the Academy of Interactive Arts and Sciences' Hall of Fame. Until 2006, he was the only person to have been honored this way by both of these industry organizations.
He has been called one of the most important people in gaming, technology, and entertainment by publications such as Entertainment Weekly, Time, PC Gamer, Discover and GameSpy. For bringing simulations to the mass market, Wright was awarded the PC Magazine Lifetime Achievement Award in January 2005.
In a presentation at the Game Developers Conference on March 11, 2005, he announced his latest game Spore. He used the current work on this game to demonstrate methods that can be used to reduce the amount of content that needs to be created by the game developers. Wright hopes to inspire others to take risks in game creation. Spore was released on September 5, 2008 - its official and wikia sites.
See Also
External links