Welcome to the SimCity Wiki!
SimCity Wiki is a collaborative encyclopedia about SimCity series that anyone can edit.
This wiki is currently growing, and has 545 articles.
About this Wiki • Wiki policies • Administrators • Recent changes • Other languages
SimCity is an open-ended, city building simulation series for computer and video game consoles,
and is the brainchild of developer Will Wright.
The series is developed by Maxis and has spawned several sequels and spin-offs.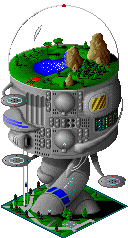 Arcologies are futuristic self-contained cities where a huge population is all contained in one building. Arcologies are featured in SimCity 2000, SimCity Creator for Nintendo DS, and SimCity (2013).
They're big, they're bad, and they can be kind of ugly. But they do one thing quite well: they boost a city's population. However, there's a few tricks to using them that you may not have known... Read more
Nominate the next featured article • Past featured articles