SimCity BuildIt

Developer(s)
tracktwenty
Publisher(s)
Electronic Arts
Release date(s)
Android
CA October 22, 2014 (Soft launch)
WW December 16, 2014
iOS
CA/AU/NZ October 24, 2014 (Soft launch)
WW December 16, 2014
Version
1.24.3.78532 (Latest, September 25, 2018)
Genre(s)
City-building simulation, mobile game
Mode(s)
Single-player with multiplayer functions
Platform(s)
iOS, Android
Ratings
iOS App Store: 4+
Series
SimCity



SimCity BuildIt is a spin-off game of the SimCity series for iOS and Android released by Electronic Arts.[1] This game was soft-launched in Canada for Android on October 22, 2014,[2] and in Canada, Australia, and New Zealand for iOS on October 24, 2014.[3] The game was released to the rest of the world on December 16, 2014.[4] It is currently the most played SimCity game, according to EA.[5]
Features
The game is free-to-play, with in-app purchases. The game utilizes music as well as graphics similar to SimCity (2013), although it is slightly downscaled in order to fit in with the iOS and Android devices' graphic capabilities.
The game uses multiple currencies:
(1) Simoleons are gold coins, which can be earned in-game by upgrading residential areas, selling, and trading resources[6] or bought using SimCash.
(2) SimCash, the green money, which can be earned by spending real cash or completing city achievements and also offered occasionally by visiting other cities and clicking on bubbles.
(3) Golden keys, which can be bought and can only be earned by completing shipment or disaster challenges. It can also occasionally be given by a bubble in another city.
(4) Platinum Keys , the light blue diamonds, which cannot not be bought with SimCash, can only be obtained from the Mayor's Contest (Top prize of Town League or Big Prizes on City League or higher, refer to Mayor's contest for details) which are used to build rare and legendary items (e.g. parks, landmarks etc.).
(5) Neo Simoleons is a part of the Omega buildings, blue hexagon coin, each Omega home produces Neo Simoleons every hour to a maximum of 200 in 24 hours. The app offers to purchase Omega items and pays you Neo Simoleons. Rarely the game will offer you Neo Simoleons for purchase with real cash.
(6) War Simoleons are used to buy war items in the war shop, purple triangle coin, You can receive them by doing war repairs or getting them from war prises
(7) Regional Simoleons is a part of the regional currency. You can gain them by completing Sim Offers and Upgrading Buildings in your region or use Sim Cash. This does not apply to Capital City Region. These can be spent on services in the regional tab.
The game starts with 25,000 simoleons and 50 SimCash on hand. By default, the city name is random and the player can change this for infinite number of times if they choose to do so. This name change is not permanent however so players are free to change it at any point from the settings menu.
There is no zoning feature in SimCity BuildIt. Instead, buildings are plopped manually. Commercial and industrial buildings produce items, and residential zones require them in order to upgrade to a higher density. Factories can also be upgraded, although it requires demolishing the original building when it is not producing anything, then replacing it with a new one.
Roads carries city services in a similar vein to SimCity (2013). The player can only build two-lane roads using the build tool. The player cannot manually build higher-capacity roads; they must upgrade them instead. Initially, only two, four and six-lane roads are available at launch; three more road types (avenues, boulevards, and streetcar avenues) were introduced in Disasters update.
Instead of having a slider, Taxes are instead determined by how happy the residents are.
Items
Zones
Like other SimCity games, there are three main zones in SimCity BuildIt:
Residential
There are five residential zones in SimCity BuildIt; regular Residential Zone, Tokyo Town Zone (introduced in the Tokyo Town update), Parisian Zone (introduced in the Paris Town update), London Town Zone, and OMEGA Zone. Similarly to SimCity (2013), residential zones are affected by land values; higher land values (raised by having services, parks, and specialization buildings nearby) usually means higher likelihood for wealthier Sims to move in.
Wealth Forecast
Standard Homes
Premium Homes
Luxurious Homes
Regular residential zones are available initially, and is the only one available prior to the Parisian, Tokyo Town, London Town, and OMEGA updates. Tokyo Town, Parisian, and London Town Zone's are only available after the Airport is unlocked (requires having 120,000 Sims and spending 80,000 Simoleons to build).[7] Special items can by obtained by completing airport shipments.
The zones may be built within the unlocked City area. City area may be expanded up to the expansion limits with the use of special items. The expansion limits have been increased in December 2015. Only areas connected to the already expanded areas may be expanded further.
Commercial
Industrial
Services
Only residential zones requires services to be connected in SimCity BuildIt. There are three main types of services in SimCity BuildIt:
Needed based on the number of residential zones:
Needed based on the space the residential zones take up:
Other:
Default Buildings
The default buildings come with every new city, but need to be unlocked at higher levels. These buildings cannot be moved, removed or added in.
Airport - Required to do deliveries and obtain special items for Parisian, London and Tokyo homes.
NeoMall - Building used for buying special, rare and usually unpurchasable items with NeoSimoleons.
Harbor - A way to earn Golden Keys by completing the items desired.
Trade Depot - A place where mayors can set items on sale (requires internet connection).
Global Trade HQ - Building required to purchase items, put on sale by other players (requires internet connection).
Dr. Vu's Tower - Needed to unleash disasters on the mayor's own city. Repairing will earn them Golden Keys.
Mayor's Contest Tower - When unlocked, mayors can connect and compete against other mayors (requires internet connection).
Mayor's Club House - After being unlocked, mayors can connect and make/join clubs and ally with each other (requires internet connection).
War Deliveries Airport - A vital building needed to get special items required to launch disasters on other cities in Club Wars (requires internet connection).
Vu's Fortress - A base on an island, which is used to start club wars and attack other cities.
Specializations
Aside from parks, city specialization buildings require their respective departments or building headquarters for that category.
All city specialization buildings, aside from parks and departments/building HQs, require golden keys. City specialization buildings, aside from parks, are not required to sustain a population; Instead, they offer a boost in population and land value.
Disasters
There are six main disaster types in SimCity BuildIt. These disasters can only be launched from the Vu Tower, once built. Special items (Vu's Battery, Vu's Remote and Vu's Gloves) are also required. Once the player reaches a certain level, the disaster will be powered up. For example, having the Vu Tower leveled up to level 3 will unlock meteor strike II.
Image gallery
Videos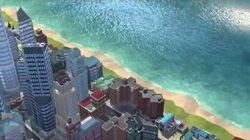 References
External links