SimCity 2000 is the second console game in the SimCity series. The game was released on many different platforms.
Versions
To date, 5 console versions of SimCity 2000 have been released. Each have new features exclusive to themselves aside from the Game Boy Advance port.
Super Nintendo Entertainment System Version:
The SNES version was released in 1995 and was developed by Imagineer. It was the first console port of SimCity 2000. There is only one file slot, the graphics were watered down due to technical limitations, and there are only five scenarios. Four new features were also added.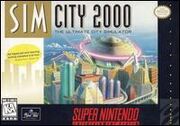 Scenarios:
Megalopolis
Training
Global Warming
Retirement City
Space
New Features:
New City Hall
New TV Station
Rocket Launch
Weather (Rain)
Nintendo 64 Version:
Released exclusively in Japan in 1997 by Imagineer. This version added many new features and had slightly higher res graphics than the other version before it.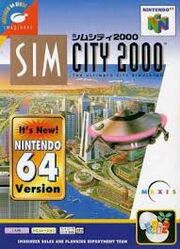 New Features:
Dating Sim
Horse Racing
Monster Breeding
Fully Pre Rendered 3D Cutscenes
Futuristic Buildings and Towers
Sega Saturn Version:
Released in 1995 by Maxis, this game has little to no changes from the PC version, however, the edge of the map now has clouds.   The buildings and text are also rendered in higher res graphics.

PlayStation 1 Version:
Released in 1996 by Maxis, SimCity 2000 on PlayStation is a direct port from the Saturn version, but some features were omitted, such as the building progression. However, a stripped down version of Streets of SimCity is built into this version exclusively. While you cant drive, you can watch as the NPC drives the car for you. It is rendered in full 3D.
This game was later ported to PlayStation 3, PlayStation Portable, and PlayStation Vita via PSone Classics. It costs only 5.99.   As of April 25th 2013, the game was removed from the Japanese PlayStation Network for unknown reasons. 1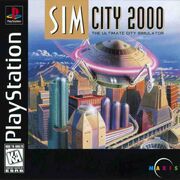 Game Boy Advance Version:
The GBA version was released by Zoo Digital in 2003. The game removed several features, such as water to make the game run better on the Game Boy Advance. 
Legacy
The success of SimCity 2000 on consoles eventually spawned several console sequels. 
SimCity Creator - Released on DS and Wii
SimCity 64 - Released on Nintendo 64 (Requires the disk drive Add On)
See also