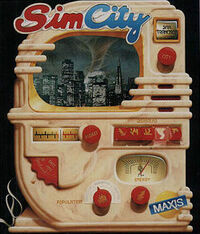 SimCity is a simulation and city-building personal computer game, first released in 1989 and designed by Will Wright. SimCity was Maxis' first product, which has since been ported into various personal computers and game consoles. Until the release of The Sims in 2000, the SimCity series was the best-selling line of computer games made by Maxis.
History
The idea for SimCity comes from various places. Will Wright came up with the idea when he spent more time making maps for Raid on Bungeling Bay than playing the game. Wright also cites The Seventh Sally", a short story by Stanislaw Lem, as an inspiration for the game.
The first version of the game was on the Commodore 64 and was finished in 1985. Wright spent four years trying to find a publisher. Many major publishers, including Brøderbund, were scared off by the innovative gameplay of SimCity. Finally, Maxis agreed to sell it as one of their two initial games.
In 1988, SimCity was shown to Brøderbund again. The company decided to enter into a distribution agreement with Maxis. That year, the game was released for the Amiga and Macintosh. Versions for the IBM PC and Commodore 64 were released the following year.
Gameplay
In SimCity, players build a city. The game doesn't have a specific goal, so the player can't win or lose. The player can zone areas as residential, commercial, or industrial, add buildings, adjust the tax rate, construct power lines, and build roads, among other things.
Depending on how the player builds his city, people will move to his city or leave. As the population grows, the player must accommodate their needs. In certain versions of SimCity, players get rewards for having a large population.
Disasters
Players will sometimes have to face disasters such as giant fires and earthquakes. They can happen randomly or can be purposely triggered by the player. In scenarios, disasters occur at predetermined moments. Not all disasters were available in every version of SimCity. The disasters in SimCity are as follows:
Scenarios
Main article: List of Power Plants in the SimCity Francise
Scenarios were included as different way to play SimCity. Rather than having no goals and as much time as the player wanted, scenarios gave the player a goal and a time limit. Scenarios in SimCity replicated a real city and sometimes a real event. As with the disasters, not all scenarios were available with every version of SimCity. The following are the scenarios included:
Power Plants-
Versions
SimCity
Amiga - Released in 1989. There were two versions for the Amiga. Version 2.0 added the ability to switch

tile sets

.
Atari ST - Released in 1989. This version had no music and the graphics were less colorful than the Amiga's.
Commodore 64 - Released in 1989. This version has no police stations, fire departments, stadiums, or railways. It did include earthquakes as a disaster. The statistics screen was also removed.
Macintosh - Released in 1989. This version was black and white, but high resolution.
ZX Spectrum - Released in 1990.
PC - Released in 1989 for DOS and in 1992 for Windows. This version features EGA graphics and PC speaker audio. A CD-ROM version for DOS, released in 1994, added 256-color graphics and live-action video.
Amstrad CPC - Released in 1990.
BBC Micro Acorn Electron - Released in 1990.
Super Nintendo - Released in 1991. This version featured graphics that changed with the season, buildings resembling those in Japan, rewards, and Dr. Wright. Nintendo put their mark on the game by replacing the generic monster with Bowser and offering a statue of Mario as a reward.

NES

 - The NES port was announced in the September–October

1990

issue of

Nintendo Power

magazine. It was playable during the

Winter International Consumer Electronics Show

of

1991

, but was later cancelled before release.
Amiga CDTV - Released in 1992. This version had a closer view and a new interface to accommodate the Amiga CDTV. Redbook Audio was used for music and three scenarios were added.
PC - Released in 1993 for DOS, it was co-developed with Interplay and it featured higher resolution graphics, new music and sound effects. It also featured advisors and news reports through the use of Full Motion Video.
Wii - Available for download on the Virtual console in 2006. It's the same as the Super Nintendo version.
SimCity Classic
Palm Pilot - Released in 2000. It has most the features of the bigger game, but has less detailed, black and white graphics.
PC - Released in 2000 as part of the Sim Mania pack. This version features everything from the earlier versions.
SimCity Classic Live
Classic Live - Launched in 2006. The game was available to those who registered on Simcity4.com.
As of 2012, the website has since been shut down and merged with the main SimCity site, in the process discontinuing SimCity Live. 
Micropolis
The original SimCity source code has been released under the name "Micropolis" as part of the One Laptop Per Child Program (OLPC). The reason it was released was due to the OLPC requiring games to be open source, and EA wanted to donate. As for the name change, required because of trademark policies with the name SimCity, but is also a return to a name used during SimCity's development, before commercial release. EA policy for the released code says users can offshoot and claim as their own as long as they do not use the SimCity Name. The source code has also removed the plane crash disaster in response to the terrorist attacks of September 11, 2001, which destroyed the entire World Trade Center complex and a part of the Pentagon. Micropolis is available at: http://www.donhopkins.com/home/micropolis/
Awards
Best 20th Century Computer Game, 1989, Charles S. Roberts Award
Best Computer Strategy Game, 1989, Video Games & Computer Entertainment
Best Educational Program, 1990, European Computer Leisure Award
Best Military or Strategy Computer Game, 1989, Origin Awards
Best Product of the Year, 1992, Unix World
Critics' Choice: Best Consumer Program, 1989, Software Publisher's Association
Editors' Choice Award: Best Simulation, 1989, Compute
Editors' Choice Award: Best Recreation Program, 1989, MacUser
Fourth Best Simulation of All Time for Amiga, .info
Game of the Year, 1989, Amiga Annual
Game of the Year, 1989., Computer Gaming World
Member of the 1989 Game Hall of Fame, Macworld
Most Innovative Publisher, 1989, Computer Game Developer's Conference
Software Award of Excellence, 1990–1991, Technology and Learning
Tild D'Or (Golden Award): Most Original Game, 1989, Tilt
World Class Award, 1990, Macworld
Legacy
SimCity spawned an entire series of Sim games. These games explored everything from controlling an entire planet to being an ant. The SimCity series remained most popular until The Sims was released.
External links